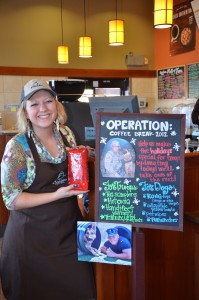 "A cup of coffee shared with a friend is happiness tasted and time well spent." The wonderful folks at Caribou Coffee in Woodstock, GA are living proof. They and their customers donated over 635 bags of Caribou Coffee for our Care Packages.
We are getting rave reviews from the handlers for the coffees already received and are continuing to send out more. Our big break was meeting the vivacious and very dog friendly manager, Jacqui, shown below with the sign announcing the drive and a bag of Reindeer blend.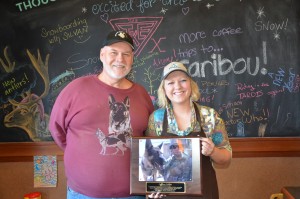 As a thank you, Jerry presented Jacqui with a plaque to go in their bustling store. I've never seen a coffee house this packed every time we stop by. Thanks for what your company, your staff and your customers donated to our dog teams! On behalf of all of the handlers that we support, MWDTSA thanks you.