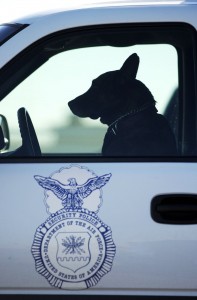 Photos of Billy, a drop dead gorgeous Military Working Dog, looking for a cushy retirement home:
Here's a note from his kennel:
"Our dog that has been considered excess about 2 months ago. His name is Billy B041. He is a 12 year old Dutch Shephard. He is on Rimadyl, Tramadol, and Dasuquin for his bad back. He has been approved for adoption. He back is bad enough that he needs the pain killers and the Glucosamine supplements but not bad enough that he still has plenty of energy to play. He still jumps around like a puppy when it's feeding time. Only thing is he is agressive with animals and would need to be put in a home with no animals and preferably a fenced in back yard. Billy is a Explosive Detector Dog (EDD). He has not done any explosive detection in over 6 months since he was approved to be adopted.

He passed his adoption bite video with flying colors. I tried everything to get him to be aggressive and he wasn't interested.As long as there is no bite equipment
around, Billy is your average playful "old man."

We had one person call us back who was a retired handler. The thing that kept us from giving Billy to him was he lived in a assisted living home and was partially disabled. Because of Billy's aggression training we need him to be in a home with someone that can handle him. Just as long as they have handled or had experience with dogs who have been aggression trained. We haven't done any bite work with Billy in over 2 years to help prepare him for retirement. He is a good dog. Loves his toys and loves to be loved. Billy has been neutered as well to prepare him for retirement."
Please consider supporting this retired Veteran.
If you'd like more information, please contact:
via email: Charles.Dahlberg@buckley.af.mil or via phone 720-847-3647, 720-847-3645