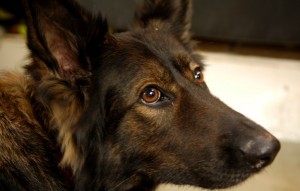 Al Dodds is back along with hero dog, Tess. Al is a veteran Navy dog handler from the Vietnam era. He signed up with a contractor to take his Human Remains Detection (HRD) dog , Tess, over to assist in special searches for missing Americans. We first met at a reunion event at Fort Benning back in 2002 or 2003 and later he joined us for a special event with the wonderful Navy handlers down at King's Bay Kennels, just north of Jacksonville, Florida.
Later, as the US went to Iraq and Afghanistan, we had service members who went missing and the need for HRD dogs became obvious. Several missing members have been found and their remains returned to their families in the US.
Over the months that he and Tess have been working in Iraq, he's been sending many photos. Take this opportunity to check out the photos, take a look at the story behind Tess' hero dog status on the "Heroes" link on the front page of the website. She's quite a girl.