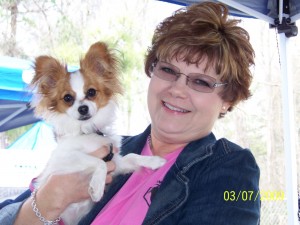 Being March, you never know if you're going to get the lion, the lamb or lamb chops when it comes to the weather and today was no exception. Early this morning it was misting rain and cool, even though the weatherman "told" me it would be warm and sunny. Well, he didn't lie, really, it just didn't warm up until afternoon when the temperature hit the mid-70's and the sun broke forth. It ended up being just a grand day.
MWDTSA was invited to attend an Open House at the local Invisible Fence dealer today. http://www.invisiblefence.com/
Several area vendors with dog related businesses were also in attendance and the general public was invited to come and bring their dogs. Activities for the dogs included agility play, bone toss and a paw print on a tile.
The best part of the day, other than getting a chance to hang around with buddies Ann, Liz and Ken, is that we got to meet some awesome folks. First, there is Jody McGlothlin of Invisible Fence with whom is always a treat to spend time. But, we also got to meet some pretty cool vendors and other folks that had a real interest in what we were doing.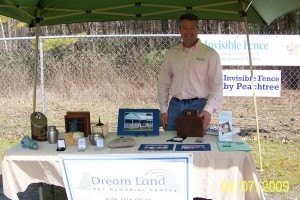 We had several offers to help with fundraising etc, but one of the most unique that I think we've run across comes from Pet Dreams Memorial Center and its owner, Kevin Marcy. Kevin advised that his full service funeral home for pets would provide free service to anyone residing in the greater Atlanta area when their Military Working Dog dies. Since I'm thinking of getting one of these dogs as soon as I bulk up the bank account a bit, I think that is really, really generous and very appropriate offer.
There were many other really great vendors with amazing services and I was able to get cards from many of them. If you're in the Atlanta area and need to know where to get an invisible fence, have a pet sitter come to the home or board your dog in a non-boring kennel, get a doggy bath with a blueberry facial, learn K 9 first aid from an expert, go to doggy obedience school and more, let me know, have I got info for you.
(BTW, I nearly lost Ann to the blueberry facial folks at Aussie Pet Mobile. Not only did the thought of a facial sound really amazing, the blueberries were somehow dancing in our heads and creating visions of muffins, too.) I'll in
clude a list of all the links of the wonderful vendors we met.
http://www.invisiblefence.com/
http://www.aussiepetmobile.com/
http://www.bonesandmore.com/
http://www.pettechatlanta.com/
Enjoy a few photos of the day: Ann with the cutest little papillion, Ken with Kala (an extremely sweet mixed breed that just won all our hearts), Kevin Marcy with his display and some of the "goodies" available for munching.
Thanks, Jody, it was terrific and it's always great to meet new friends. Monies donated at today's event will go to my favorite charity : ), MWDTSA, to help us with new requests that are coming in.