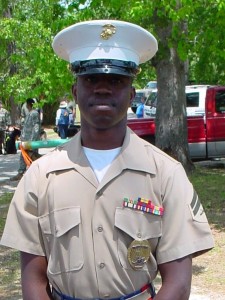 Please accept apologies for the delay in updating the blog and photos on the blog.
I took a quick trip to North Carolina and tried to include visits to both Fort Bragg and Camp LeJeune.
The Fort Bragg visit went well as my POC, who was away at a class, made sure I had a good contact person in Sgt. Greenfield. It was a great surprise to find that Sgt. Greenfield had been the recipient of MWDTSA packages while he was in Afghanistan. He introduced me to Sgt. Floyd and I immediately recognized his name and knew that he had been in Iraq with his dog, Bridge. You'll find photos of Greenfield and Floyd along with a photo of Floyd and Bridge in Iraq.
My trip to Camp LeJeune didn't quite go as planned. Although I have a perfectly wonderful POC who wanted to get together, another visitor (the President) got preference. So, I didn't get a chance to visit with the Marines, but wish them well as they head off to Iraq/Afghanistan over the next several weeks and months. Here's a photo of Dennis, my Marine POC.